Discover our exclusive boutique rooms in the emblematic Santa Emilia Palace.
Immerse yourself in the unique experience of staying at Palazzo Santa Emilia, where past and present meet to offer you an unforgettable stay. Our boutique rooms, designed with the perfect combination of elegance and comfort, reflect the palace's rich history and contemporary sophistication. Each room is unique in its décor and charm, inviting you to enjoy an intimate and luxurious space while discovering the treasures of the surroundings. Below is our selection of rooms, carefully designed to provide you with the ultimate Santa Emilia experience.
"La Castiza", at Palacio Santa Emilia, is a classically styled room that offers a harmonious balance, elegantly fusing the classic essence. The room houses treasures such as its award-winning silver bed, originally from Naples and manufactured in the first decade of the 20th century, along with a sumptuous 18th century closet from the Pazo de Montenegro.
English, Portuguese, Spanish and Italian furniture make up the most eclectic and sophisticated decoration of Santa Emilia's rooms, creating a distinguished and timeless atmosphere. Ideal for couples looking for an intimate and luxurious space, "La Castiza" offers accommodation for two people in an environment of refinement and exquisiteness.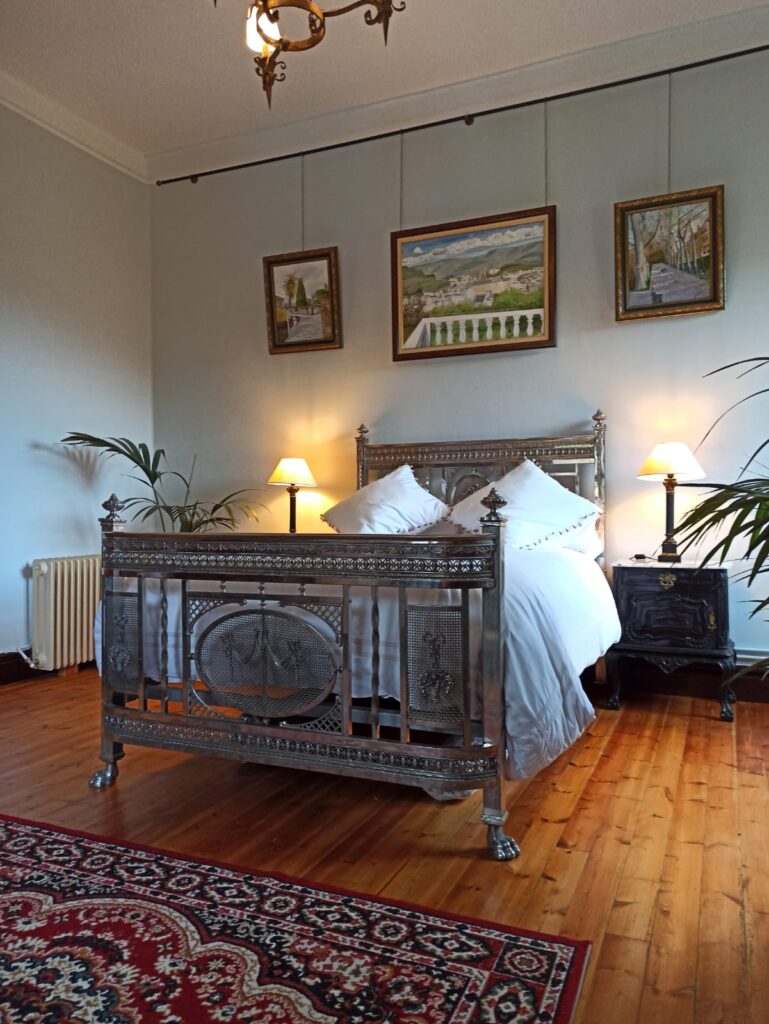 The "Indiana" room at Palazzo Santa Emilia is exceptionally special, as it preserves the original furniture from the time when the palace was built. This solid, typically Indian furniture was created by the same talented carpenter responsible for the majestic doors of the palace's noble and evening floors.
Perhaps the most authentically Indian of all the rooms at Palazzo Santa Emilia, the "Indiana" room offers a unique experience and a journey into the past, allowing guests to immerse themselves in the rich history and charm of this magnificent palace.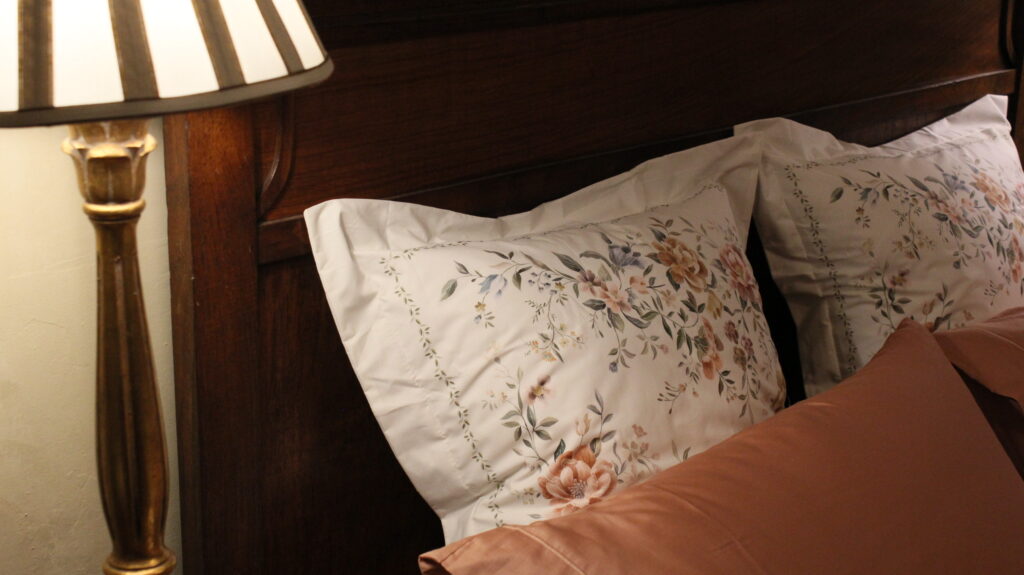 Sumérjase en una experiencia de época al alojarse en la habitación Isabelina. Elegante y sofisticada, esta estancia exhibe un majestuoso juego de dormitorio madrileño, tallado exquisitamente en madera de cerezo. La meticulosidad y refinamiento de las tallas reflejan la maestría de los artesanos de la era isabelina, haciendo de cada mueble una obra de arte en sí misma.
La decoración, suntuosa y detallada, se complementa con géneros de la más alta calidad que realzan el ambiente palaciego de Santa Emilia. Sumado a ello, un balcón francés invita a los visitantes a admirar vistas panorámicas del imponente frente del palacio, permitiendo que la luz natural se fusione con la rica estética de la estancia.
Esta habitación no es solo un espacio para descansar; es una inmersión en la historia y el lujo de una era dorada. En el corazón del Palacio Santa Emilia, la habitación Isabelina promete una estancia donde el pasado y el presente convergen para brindar una experiencia incomparable.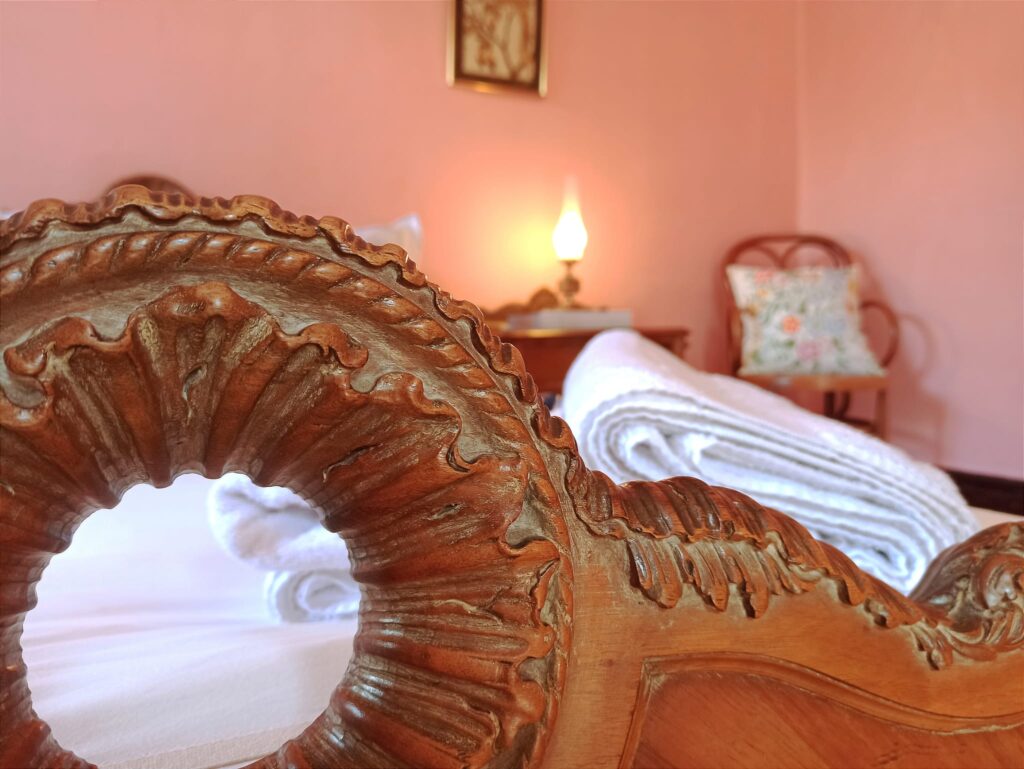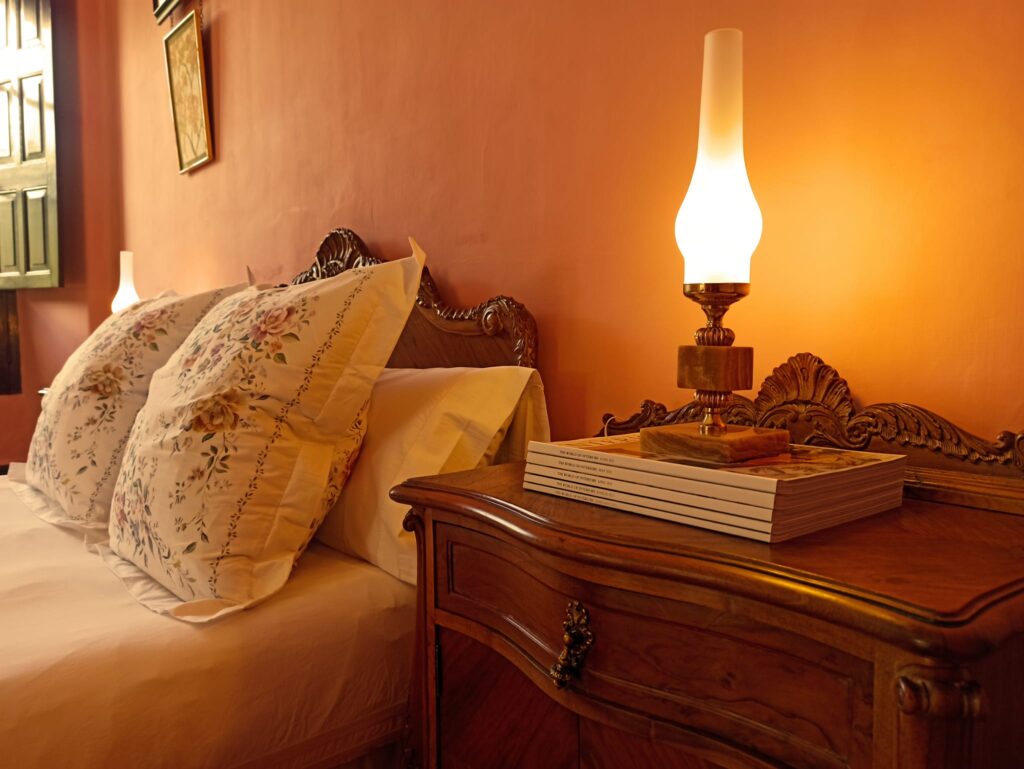 La habitación Colonial es un tributo a la historia y el legado que alberga el Palacio Santa Emilia. Dotada con muebles originales de la residencia, destaca un elegante tocador de estilo colonial que evoca viajes y aventuras en tierras lejanas. Pero el verdadero tesoro es el armario del siglo XVIII, una joya que proviene del afamado Pazo de los Pardo Montenegro, ubicado en el corazón de Mondoñedo.
Las paredes son guardianas de un legado artístico particularisimo. Las pinturas, obra del antiguo dueño de la villa, nos sumergen en su visión y talento. Con un total de 30 obras, la mayoría se encuentran en la planta noche, aunque también engalanan otros rincones de Santa Emilia, dejando huella de su maestría en cada espacio.
Las ventanas, por su parte, son el marco perfecto para apreciar la majestuosidad de la finca amurallada y las pintorescas vistas del barrio de Os Muiños. En esta habitación, cada detalle invita a la contemplación y al viaje a través del tiempo, en un ambiente de elegancia atemporal.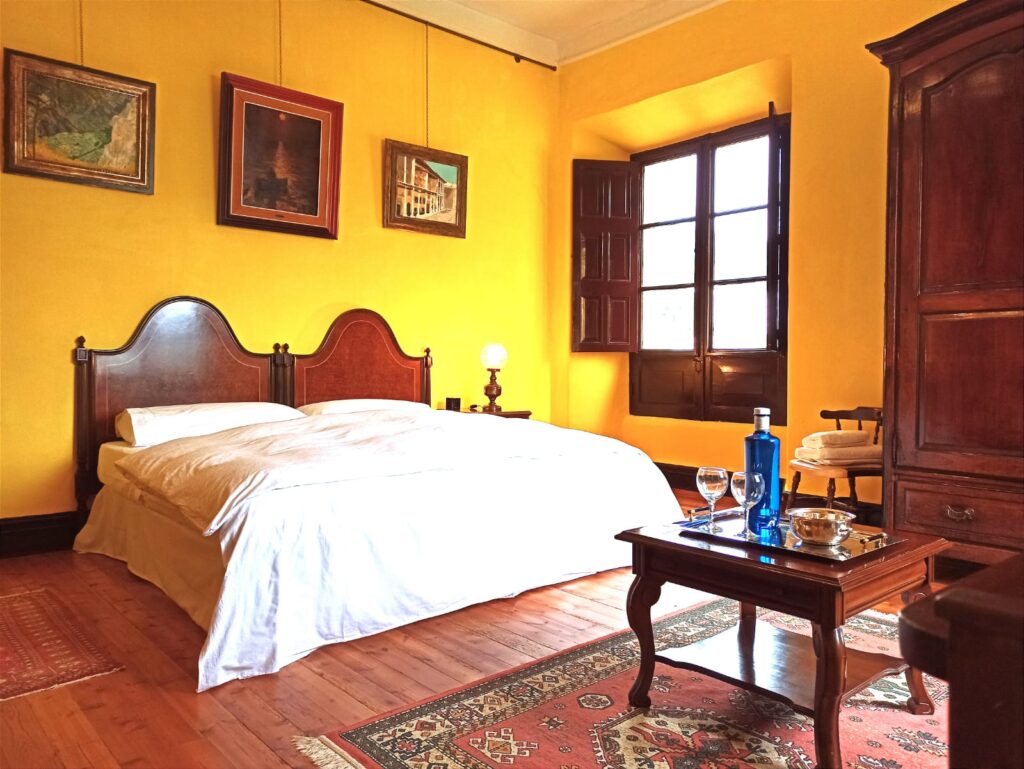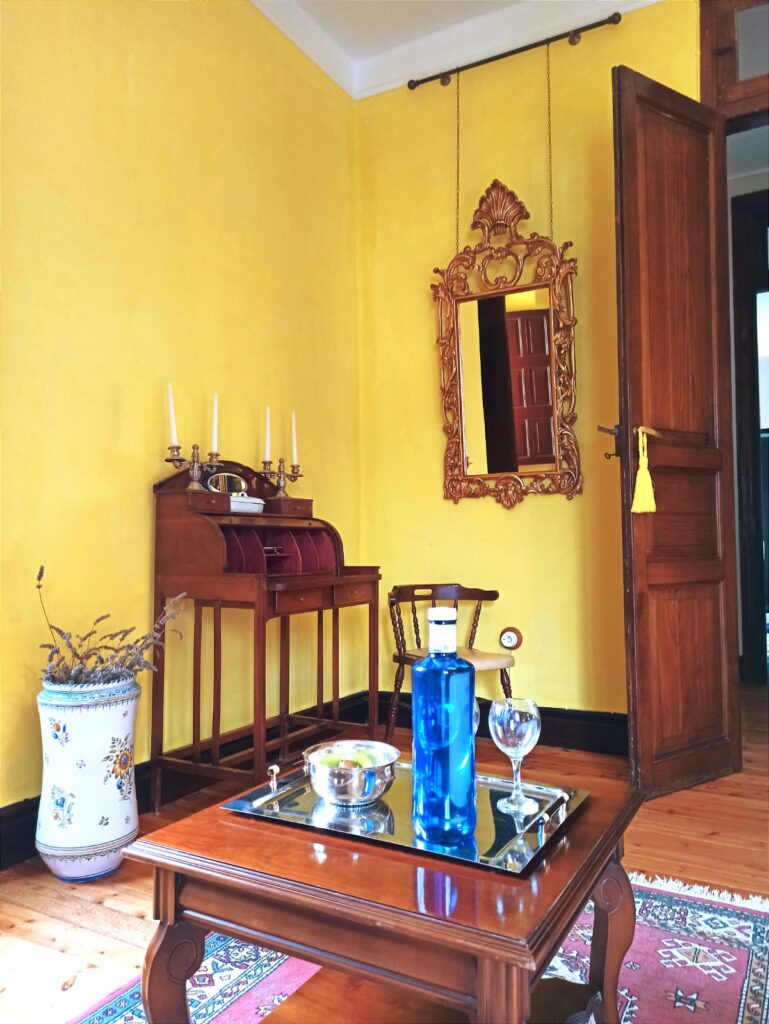 Ubicada en la privilegiada zona del ático del palacio, la habitación destaca por su generosidad en espacio y diseño. Con casi 60m2 de superficie, esta estancia cuenta con una cómoda cama de 180 cm y un baño ensuite de diseño sobrio y moderno.
Ofreciendo algo más que solo un lugar para descansar, se otorga al huésped un área común exclusiva -solo compartida esporadicamente con los propietarios-. Aunque no es una cocina per se, este espacio de approx. 30m2 dispone de detalles prácticos, como una cafetera Nespresso y un calentador de agua eléctrico. Desde aquí, se accede a una de las joyas del palacio: una terraza privada de mas de 20m2 en la torre, que ofrece vistas inigualables.
En cuanto a la decoración, se ha optado por un equilibrado juego entre el ratán, con su frescura natural, y un tocador chippendale, que aporta un sutil toque de clasicismo. Detalles de corte castizo completan el ambiente, creando un entorno a la vez familiar y distinguido. En definitiva, la habitación Ático combina tradición y modernidad con un sello madrileño de elegancia.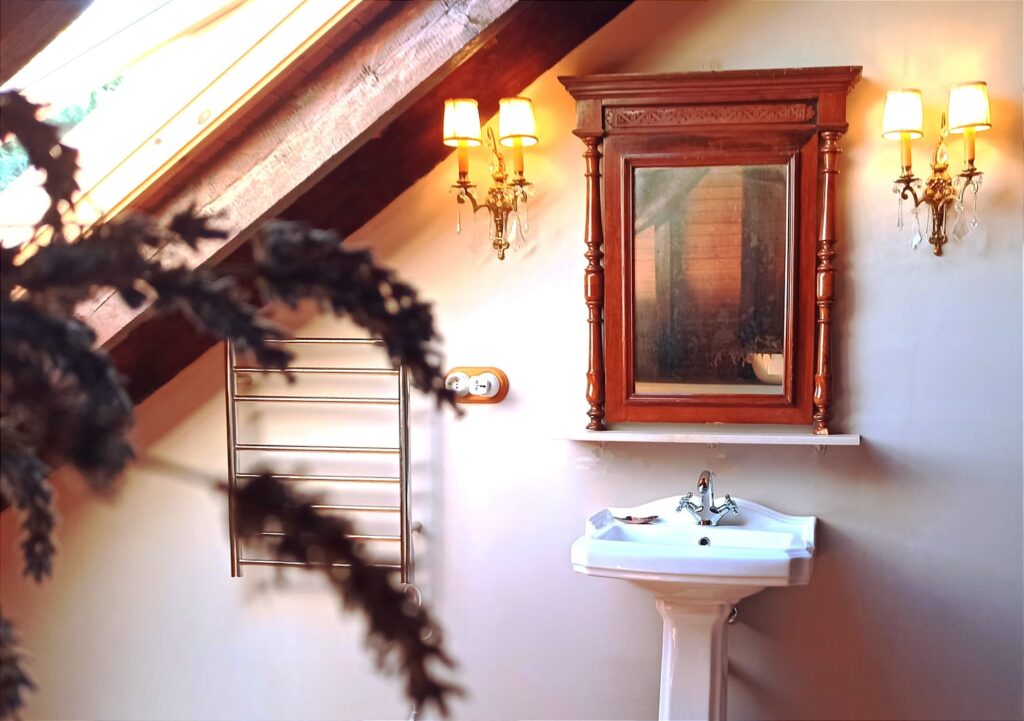 Contact us to reserve your accommodation